How To Become Irresistible To Customers
How To Become Irresistible To Customers - The Proven Formula For Increasing Your Sales & Profits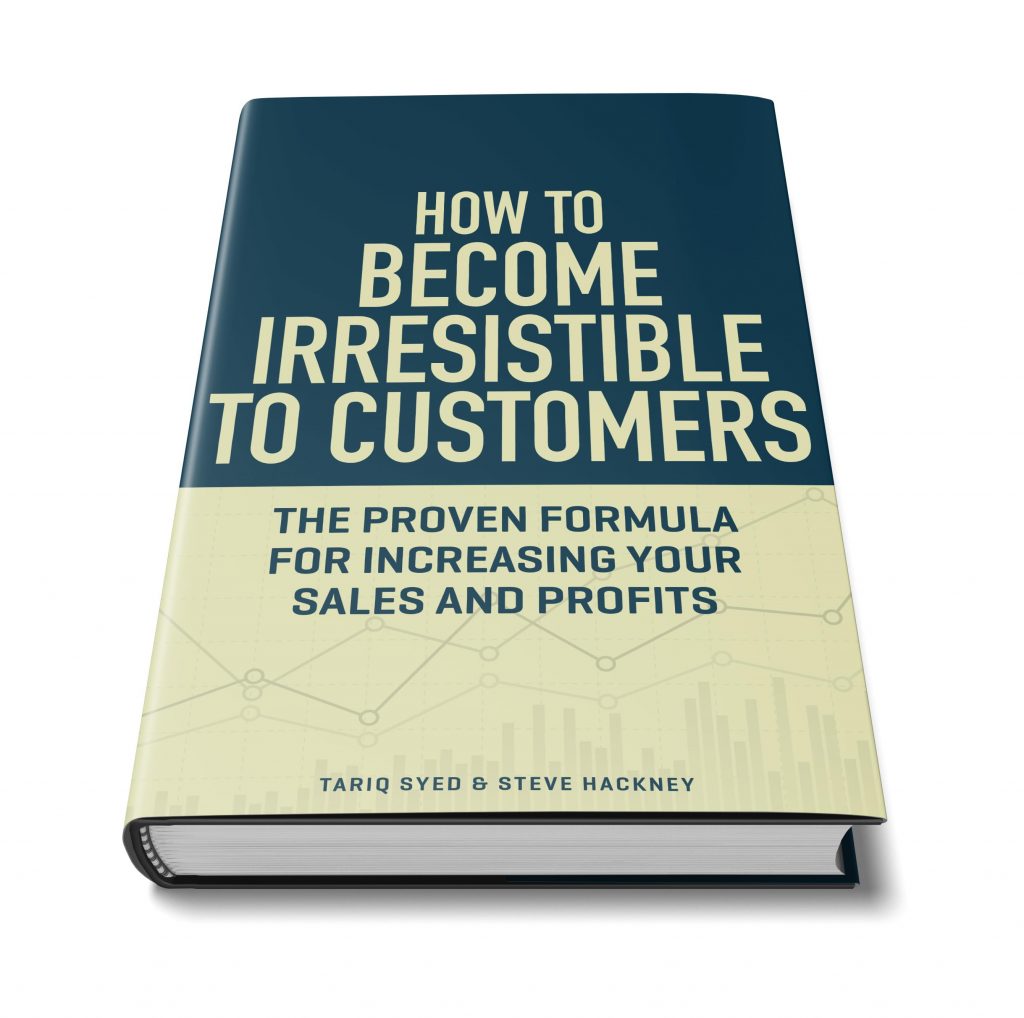 Get Your FREE Digital Copy NOW
What Is How To Become Irresistible To Customers - The Proven Formula For Increasing Your Sales & Profits?
Here's what it's NOT:
It's NOT about using the next bright shiny button, the next new sales or marketing tactic, like a new social media platform, although this book will ensure you get maximum results from it.
This book is NOT about giving you theories. I've read enough business books over the last 20 plus years to know when the author is trying to 'pull the wool over your eyes'. Everything you read in these pages is therefore proven in the 'field of battle'. Absolutely nothing is an idea for you to 'try out'.
This book is NOT about you having to spend a considerable amount to multiply your sales and profits. Much of what I take you through can be done without cost, or on a shoestring.
THE FORMULA IS A PROVEN, UNBREAKABLE SYSTEM For Quickly Growing Your Business
In my experience of working with business owners and entrepreneurs, most of them simply don't understand what makes marketing work and what areas of the business to focus on to bring about growth, more sales and more profit.
That's your opportunity… no matter how large or small your business is.
In all likelihood, you too have little understanding of what makes marketing work and what elements of your business you should focus on to bring about quick and big increases in sales and profits… and achieve it with very little, if any, extra cost.
That's what this book is all about!
HURRY! This Offer Won't Last Long!
Here's What Other People Are Saying:
"I'll be honest, I've always struggled with "How to.." books. I got in bed last night at 10:30 and promised myself I'd read 100 pages, and do the same the following 2 nights to then give some feedback.
"Fast forward to 1am and I've read the whole thing. It completely pulled me in and I couldn't put it down. It's truly brilliant.
"I probably didn't get to sleep for another couple of hours as I had tonnes of ideas running through my head and just feel so excited to start implementing.
"I've not felt this excited since I came up with the email follow-up concept 7 years ago, and that was a game-changer for us!"
Lee Shore, Merrehill Limited
"This book is a complete guide to small business development clearly setting out a comprehensive and simplistic strategy to follow in any industry from set ups through to established operators looking for success.
"I am not a fan of 'how to be successful books' because they talk in the clouds leaving the reader scratching their heads on how to implement such wonders into your own business, this is a polar opposite to Steve and Tariq's book.
"It explains in detail across all aspects of your business world how to implement tried and tested marketing plans for growth, increased profits at minimum costs and for success.
"Any small business should use this from a company providing garden services to a specialist accountancy firm as a marketing blue print for growth and success.
"I run a medium sized retail and internet business and the relevance of Steve and Tariq's book is evident in all aspects of our marketing strategies as we target our customers to expand sales and build momentum both instore, online and through communication.
"A rare treat, I thoroughly enjoyed reading this book!"
Nick Rubins, CEO of QD Commercial Group Holdings Ltd
"It's not every day that you read a book that so precisely ticks all the boxes of being a must have for every small business.
"A book that encapsulates the essence of tools, techniques and processes, a success formula if you like, that are needed to skyrocket the success of a small business.
"At the same time, it contains real life proven examples of how to make this success formula work beyond just being words on the paper.
"Steve and Tariq have done the impossible. They have taken their many years of experience growing (and saving) thousands of small businesses and distilled it down into a proven successful formula.
"This formula is proven, repeatable, super powerful and successful regardless of what your small business does.
"They have saved you the pain, hassle and cost of trying all the things that don't work and given you a blueprint of successes that work.
"This book is worth its weight in gold for that alone.
"Steve and Tariq's style of not just explaining, but also justifying with reasoning and giving proven examples leaves you in no doubt as to what needs doing and how to do it.
"Whether you are a seasoned pro or a newbie, this book will help you to implement your own success formula.
"If you are serious about growing your small business (and who isn't), you must read this book, implement the formula and enjoy the riches it will bring you. "
David Lowe – The TM Coach
"Congratulations on your new book guys, I have been reading it over the last few days and have really enjoyed it.
"All written in an easy to understand style and very informative.
"I look forward to our company working with these strategies even more and making them work for us!"
Graham Harris, Tech-ni-fold Ltd
"Steve and Tariq's new book, starts where many other business self-help books finish.
"It's packed with practical examples and step by step strategies, which if followed, can only result in a substantial improvement to any business's sales and marketing performance.
"Having implemented Steve's systems in my own accountancy practice over a number of years, I can highly recommend them, they work!"
Steve Richardson, Brackman Wolfe
"Steve and Tariq have nailed the 'Secret' of business growth. This Mind blowing book removes the mystery surrounding 'how to grow any business'.
"I was searching for something like this for at least the past 20 years while devouring other business management and marketing books. This book is full of real-life, practical, applicable and easy-to-Implement formulae.
"The 9 Core Elements that are explained in the book are just pure genius and gems which will make marketing work for any business. Apply them to your existing business and see your profits soar automatically. Why automatically? Because they will work for you 24 x 7, no matter what happens.
"Steve and Tariq don't stop only by telling WHAT to do, they explain in detail HOW to do it. They have given the exact step-by-step, paint by numbers process, that tells you how to go about it. It's Like Reading Brian Tracy, Dan Kennedy, Jay Abraham, Rich Schefren, Joe Polish and all of the Masters of business growth in this one book that summarizes and simplifies all they profess. It's as if you have a Harvard University team working on your small business for you.
"Study this Book if you want to have a lasting change in your Business profits. It's going to change your lifestyle for Your lifetime. It is the business science of getting rich….FAST. Ignore at your own risk."
Jayant Hudar, Award-winning Amazon Best-Selling Author and Business Coach
"It Is Impossible NOT To Grow Your Business With This Book"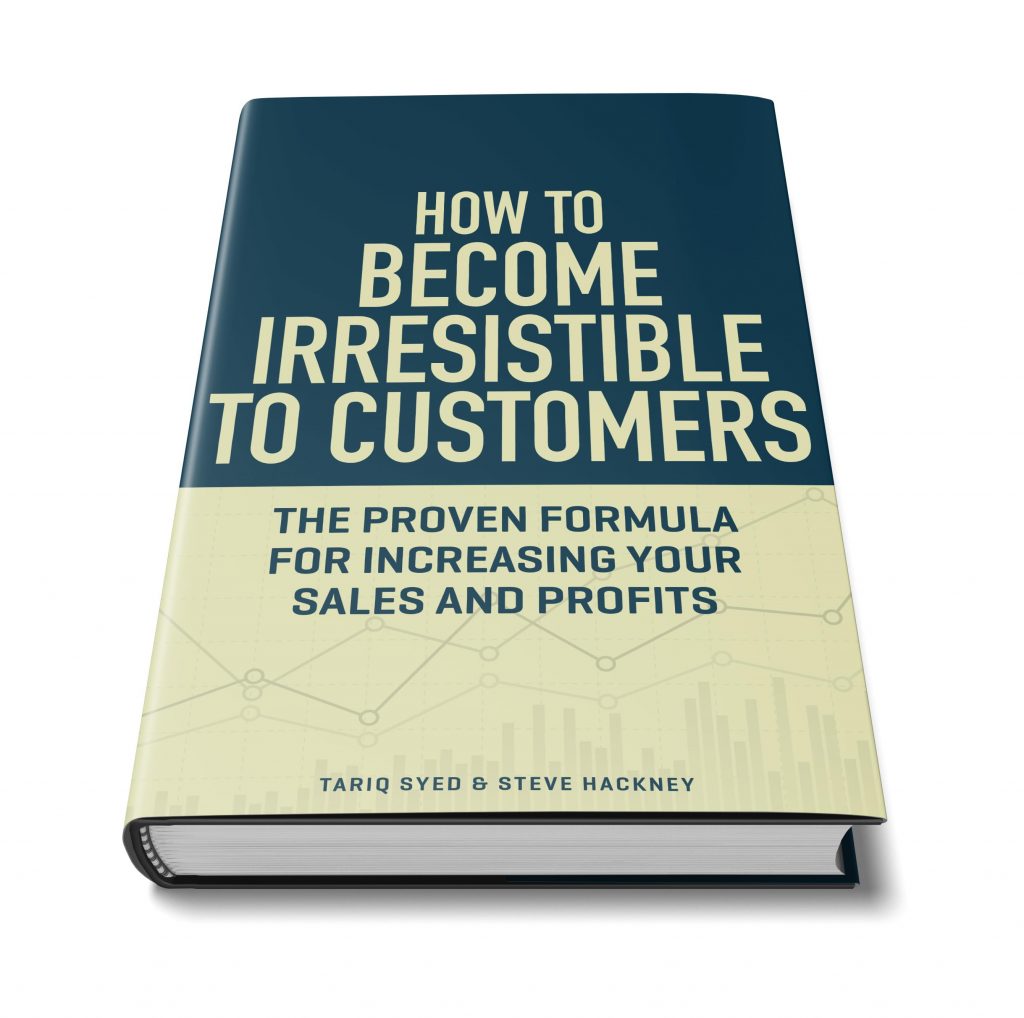 "A Must Read Book"
"The book was an enlightening read, that brought many of the things that I have done subconsciously in business for 21 years into the conscious.

"Steve and Tariq have been able to articulate, many of the years of experience, he has derived from working with businesses, into a book which is a must read.

"It doesn't matter whether you are starting out or a seasoned professional, if you follow the steps outlined in the formula, then you will be able to make the marginal gains that you need to perform in this exponential age of discovery."

Harvey Thorneycroft, Harvey Thorneycroft Ltd
What More People Are Saying About 'THE FORMULA'...
"Bursting With Common Sense"
"This book is bursting with common sense and explanations about steps which some but by no means all businesses will be taking already-but it is far more than that and rightly recognises that to bring all these things into play takes somewhat more.

"Steve and Tariq have produced a thoroughly readable book and, more importantly, implementable FORMULA to achieve this. I will use it, and respectfully suggest you do." Rob Hughes, Director, M&S Solicitors Ltd
"Transform The Health Of My Business"
"Often in my industry (catering) and as a small business owner, I have found myself working so hard (or so I thought) to make ends meet that I regularly consider if it's worth it…..In fact, I have often said to my wife "it would have been cheaper to have stayed in bed.

"As a caterer, I know that if a good recipe is followed, it can't go wrong. The brutal truth is that, THE FORMULA opened my eyes to just how hard I was working to lose money instead of living the dream.

"Through Steve and Tariq breakthrough, the book has taken me on a profitable journey. It has revealed to me just how following the correct and simple recipes (consistently, subtly and cost effectively) at the right moments will transform the health of my business.

"For far too long, I wasted money on the wrong marketing strategies and because they didn't work, I sunk yet more money into a different drain. As the guys often remark in the book, "it's not Rocket-science, but it is a Science…….The FORMULA.

The FORMULA is a recipe book (easy to follow) that will revolutionise the catering industry and all others…..maybe I should keep that quiet.

Fred Addy, Director, RPT Catering
Here's What You'll Discover From This Amazing Book:
THE FORMULA: The ACTUAL Formula currently used by thousands of businesses worldwide, in almost every industry, to quickly increase their sales and profits
THE 5 COMPONENTS: ​Discover the 5 'key components' of THE FORMULA and implement them seamlessly into your business, no matter how new or established, or what products or services you sell, or how large or small or whether it's online or offline or a traditional 'bricks and mortar'. The 5 components are the cornerstone of THE FORMULA and are missing from almost every business.
THE MARKETING DNA:​ ​If you've ever wondered why your marketing doesn't work or why your results aren't as good as you hoped, then without question it's because you're not using all of the 'Marketing DNA'. The Marketing DNA or the '9 Core Elements' represent the things that make marketing work. Get this right and your sales and profit will soar.
THE MAGIC BEHIND THE FORMULA: There's one special ingredient that holds THE FORMULA together and it's this often missing piece of the jigsaw that's the magic behind its success. Watch in almost disbelief how by tweaking just a few parts of your business, you'll see incredible leaps in sales and profits.
PROVEN STRATEGIES TO ACCELERATE YOUR GROWTH: Each of the 5 components of THE FORMULA have a proven set of tactics and strategies which will significantly increase the speed of your growth and your profitability.
SUCCESS FORMULAS MAKE IT A CINCH FOR YOU: Every strategy in the book comes with its own 'SUCCESS FORMULA', making it so simple for you to apply and get instant results. Even if you've never applied a sales and marketing strategy before yourself, with the success formulas in hand you'll create highly successful marketing right out of the gate!